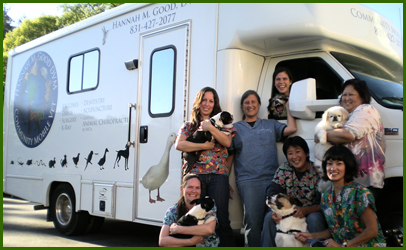 Veterinary Housecall Services ...
Integrative Medicine:
General Medicine
Digital Radiology/Abdominal Ultrasounds
Surgery and Cryosurgery
Dentistry
Therapy Laser
Animal Chiropractic (AVCA Certified)
Animal Acupuncture (IVAS Certified)
Regeneratvie Stem Cell Therapy
Herbs
Treatment for …
Dogs
Cats
Exotics
Birds
Reptiles
Mobile housecalls are available on Tuesday and Thursday
afternoons, all day Wednesday, and on Friday mornings.
In addition to housecalls, you can visit us in the community.
By Appointment Only: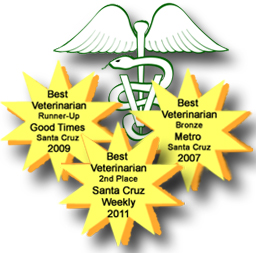 Tuesdays on the Westside:

from 9:00 AM - 11:00 AM
We park at Kelly's Bakery at the corner of Swift St. and Ingalls St.


Thursdays Midtown:

from 9:00 AM - 11:00 AM
We park at Whole Foods on Soquel at 911 Soquel Ave, Santa Cruz, CA 95062

Fridays on the Eastside:

from 1:00 PM - 4:00 PM
We park at General Feed & Seed located at 1900 Commercial Way
Fax: (831) 460-2734
New!
Click
here
for a virtual tour of a mobile veterinary van similar to my Community Mobile Vet van,
created by
La Boit, Inc.